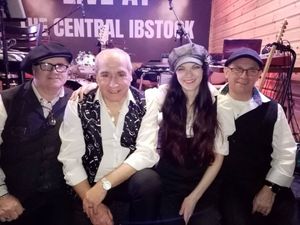 About The Band
The Del Sharrons are a Female Fronted Rock 'n' Roll band playing Cover songs from the 1950s Rock n Roll & Rockabilly Era. No matter, what we will be sure to bring back the Sound, Style & Feel of the 1950's to every performance! 
Scroll on down below for more info on individual members. Members are
Sharon Thurston    Andy Horrobin    Jullian Pugh    Raffaelle De Vivo
The Del Sharrons have been going over 13 years and have experience playing a huge variety of gigs from Rock n Roll Clubs, Vintage Events & Festivals, Corporate Events such as performing at Wembley Stadium entertaining the VIP Football Fans and we have even performed a gig on a moving train, so we truly can cater for most gigs and events!!
To find out more about the bands Past Members & History Click Here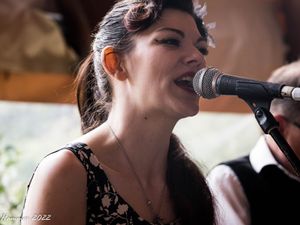 Sharon Thurston - Lead Vocals & Rhythm Guitar
Sharon has been Performing Live with The Del Sharrons for nearly 15 Years!!  She is Such a Small Person with Such a HUGE Voice and never fails to amaze people with her Strong 1950s Style Vocals, Combined with the odd Backing Vocal or Harmony thrown in makes for a Full and Authentic 1950s Sound! 

 
Inspired by so many Artists her love for Rock n Roll came very early on from the age of 5 listening to some of her parents favourite tracks and then from the age of 13 onwards went on to become slowly but surely obsessed with everything 1950s, with so much knowledge of the music that she even presents her own 1950s RnR Radio Show every Wednesday Afternoon 1pm-4pm on Splinterwood Radio the worlds No1 RnR Station.
Singing has always come very naturally to Sharon & She has a lovely warm rich tone to her voice. She has a wide taste in music despite her love of the 1950s and growing up would listen to Many different Artists, but some of her favourites include - Sam Cooke, Buddy Holly, Elvis Presley, Ruth Brown, Etta James, Brenda Lee, Fats Domino & More!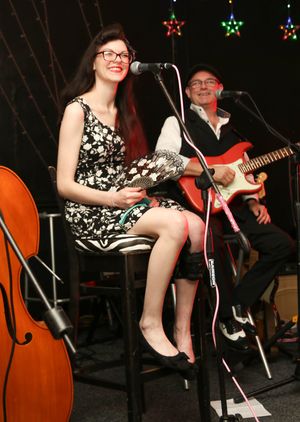 Jullian Pugh - Lead Guitar
Julian has past experience with many different bands, but has been performing Rock n Roll and Rockabilly for many years! Bands hes performed in include Rockin Lord Lee & The Outlaws in his youth and more recently The Zodiacs. With great harmonies, a truly authentic vintage guitar sound and his endless enthusiasm for playing shows in every performance!!
Raffaele De Vivo - Drums
Raff has been keeping the beat for The Del Sharrons for over 4 years!! He has been gigging for many years and brings nothing but excellence to every performance and never fails to give his all to every gig. A Strong Member of the team, Raff is also the Drummer of The Shadtones alongside our Lead Guitarist Julian Pugh. 
Andy Horrobin-Double Bass
True lover of all things fifties from the cars, the music to the clothing. Andy has been playing Double Bass for many years & the 2nd longest standing member of The Band being with us for 7 years!! His Passion & knowledge of the 1950s music shines through in his playing & he never fails to entertain a crowd!!
He is also a radio Presenter at WDYG Radio AM14.50, based in Dothan, Alabama Presenting The British Rockabilly Hayride & The British invasion show alongside Sharon.